Book Review:
An Ember in the Ashes
By: Sabaa Tahir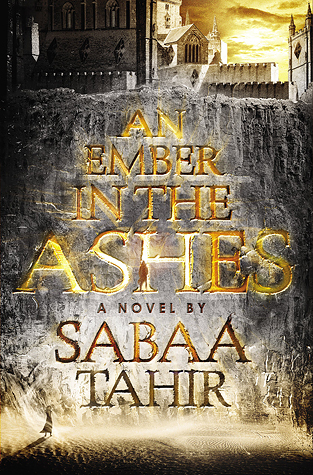 General Information
Copyright date: 2015
Genre: Young Adult/Fantasy
Pages: 446
Price: $12.07 (at the link below)
ISBN: 9781595148032
Synopsis:
Under the Martial Empire, defiance is met with death. Those who do not vow their blood and bodies to the Emperor risk the execution of their loved ones and the destruction of all they hold dear. It is in this brutal world, inspired by ancient Rome, that Laia lives with her grandparents and older brother. The family ekes out an existence in the Empire's impoverished backstreets. They do not challenge the Empire. They've seen what happens to those who do. But when Laia's brother is arrested for treason, Laia is forced to make a decision. In exchange for help from rebels who promise to rescue her brother, she will risk her life to spy for them from within the Empire's greatest military academy. There, Laia meets Elias, the school's finest soldier—and secretly, its most unwilling. Elias wants only to be free of the tyranny he's being trained to enforce. He and Laia will soon realize that their destinies are intertwined—and that their choices will change the fate of the Empire itself.
Cover: This cover is beautiful!! It is one of the main reasons why I picked it up in the first place. The colors and design really goes with the mood of the book. I felt like it really captured the essance of the book.
Theme: No theme really stood out but I can tell it's going to continue into the next book.
Point of view: It was written in 3rd person but it shifted back and forth between Elias and Laia.
Intended Audience: This is written for young adults but more towards the older side. A lot of YA books are written for the younger side and makes the reader feel kind of stupid but this was totally the opposite than that.
Author Style: Sabaa Tahir is such an amazing writer and so easy to follow! She likes to write with some big words and makes you think. I loved the way her writing just flowed from one paragraph to another.
Characters: Elias- He always felt trapped...I liked him but he never really changed. But I do have to say that he was very selfless when it came to others asking him to be something hes not. She wrote him very well.
Laia- Yet again she was also written well but she seemed a little whiny and didn't really stand out. It did seem like shes changed a little throughout the book.
Plot: When I first started the book it seemed kind of confusing because there were two different story lines but of course it came together at the end. I am excited to see where it goes into the next book. There were no holes that I could see because it was so very well thought out. I read this book so quickly because it flowed so well and was such an amazing book.
Setting: It was set in Black Cliff and Scholars quarter. Of course not in the USA and since it is fantasy it is in its own world.
My Opinion: Ohh My God this book was amazing!! I loved this book and cannot wait to get my hands on the next one. When I was reading I really got to escape reality because the world was written up so much that I just got sucked in. There was so much hype for this book that I was hesitant to start reading it but it seriously lived up to the hype and more.
Book #2 A Torch Against the Night comes out August 30, 2016!
Score:
Would you recommend it? YES
If you liked this book- check out these ones: